Exhilarating curves &
scenic views

Motorcycling
does not get much
better than this!

We are a Motorcycle Hotel: Motorcycle Friendly Lodging.
One thing that's for sure is that the Alps are an awesome place for motorcycles. The scenery in Arlberg Area is second to none and is brimming with awesome Alpine roads, scenic back roads and hairpin bends. Exhilarating curves, scenic views and plenty of fun … cruise in the mountains with some of the most spectacular views, up close and amazing! Enjoy the best motorcycle rides in the Alps—and even though "It's about the journey," a great destination makes the ride even better.
You'll be happy to hear we've placed our Hotel Garni Schweiger in just the right location to give you a perfect break from the saddle. We serve as the perfect base for motorcycle riders visiting St. Anton.
We are happy to serve your individual needs. We feel that it takes a rider to know what it means to have a place to stay that is not only motorcycle-friendly but also offers the extras to show you our special Tyrolese hospitality. Thomas Schweiger, the hotel's owner is an avid rider and it is through these experiences that he is pleased to offer fellow riders a wonderful St. Anton hotel accommodation with the little extras that make for a great motorcycle vacation.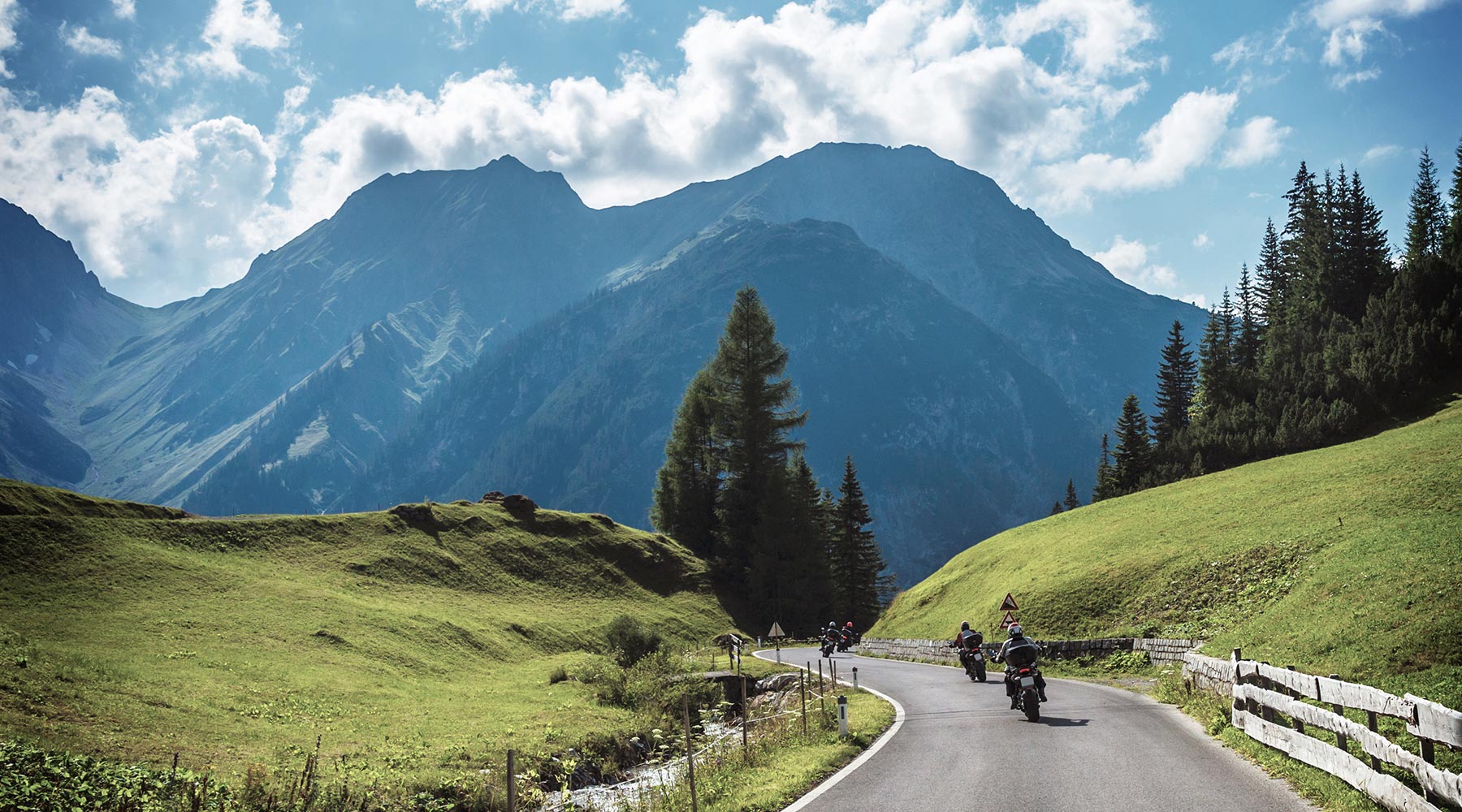 At Hotel Garni Schweiger we take the greatest care and attention to detail to ensure that your biking experience in St. Anton is relaxing and comfortable. From a safe lock up for your bike (underground car park) and complimentary trailer parking on property over drying facilities for leathers to a mechanic workshop area with tools and air operated motorcycle stand to jack up a motorcycle for service and maintenance, we offer a variety of special amenities just for bikers.
We are surrounded by winding mountain roads and Alpine passes with spectacular views: Silvretta High Alpine Road, Timmelsjoch Saddle, Jaufen Pass, Penserjoch Saddle, Furkajoch Saddle, Hahntenjoch Saddle, Albula Pass, Maloja Pass, Flüela Pass, Stilfserjoch, Umbrail Pass, ... These routes are amongst some of the best in the world. Enjoy the fantastic scenery, quiet roads and above all the experience!
We will do what we can to make your ride special and more enjoyable. Check out our special amenities just for bikers:
Secure indoor parking
Complimentary trailer parking
Mechanic workshop area with tools and air operated motorcycle stand to jack up a motorcycle for service and maintenance
Drying facilities for biker gear with hanging facilities and boot dryer
Laundry service (for a small fee)
Biker's Information Corner providing maps and guidebooks
Internet access for guests
Complimentary luggage storage service
First aid dressing materials, lubricants, cleaning fluids for helmets and visors available for extra charge
The Best Motorcycle Routes of the Alps – Explore the Tyrolean Mountains by Bike:
"Four Passes Tour", approx. 310km: Hahntennjoch Saddle, Hochtannberg Pass, Faschinajoch or Furkajoch Saddle, Silvretta High Alpine Road
"Three Countries Tour" – Austria, Switzerland and Italy, approx. 365km: Day ride along famous mountain pass roads like Reschen Pass, Ofen Pass and Flüela Pass
"Kaunertal Scenic Glacier Road Drive"
"Bregenz Forest Loop Tour", approx. 220km: Across Arlberg Pass to the Austrian Province of Vorarlberg, through Bregenzer Wald (Bregenz Forest) to Warth and across Lechtal Valley and Hahntennjoch Saddle back to St. Anton
"Silvretta High Alpine Road", approx. 145km: Across Arlberg Pass to the Austrian Province of Vorarlberg, through Montafon Valley and across Bielerhöhe into Paznaun Valley and back to St. Anton
To South Tyrol via Timmelsjoch Saddle and return across Ofen Pass
Hotel Schweiger
Roadbook & mehr